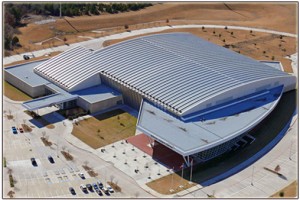 Commercial roofing is a building material used to seal and protect commercial buildings in Raleigh, NC. As opposed to residential roofing which is usually steeply sloped, a commercial roofing system typically has a fairly flat slope. If you are constructing a new building, or installing a new roof on an existing building, there are a few types of commercial roofing systems to consider.
Types of Commercial Roofing Systems
There are many different commercial roofing materials. Here are some of them:
1. EPDM Roofing
EPDM is a thermoset membrane roofing material. It is normally used to make rubber roofs and is harvested from natural gas and oil. EPDM roofing materials are extensively used in commercial applications and are mainly designed for flat roofing structures. EPDM roofing systems can last for 30-50 years with little to no maintenance. It reflects heat, cutting cooling cost in the summer. They also hold up well against water, wind and even fire, because most are fire retardant. EPDM roofing systems cost around $5.00 – 6.50 per sq. foot installed.
2. Thermoplastic Roofing
A thermoplastic is a type of plastic made from polymer resins. The plastic can become a homogenized liquid when heated and hard when cooled. This roofing material can be heated as many times as required to soften and seal them at the seams. Thermoplastic roofing requires minimal maintenance and is also recyclable. In addition to this, these roofs are exceptionally resistant to chemical, ozone and ultraviolet exposure. One can expect thermo plastic roofs to have a lifespan of at least twenty years. It also features a high resistance to strong winds, punctures and fire. Thermoplastic roofs typically cost about $6.0 – 7.0 per sq. foot installed.
3. Photovoltaic Panels
As energy costs continue to skyrocket and commercial building owners look toward green and sustainable energy, many people are turning to solar energy roofing systems. Photovoltaic solar panels used with roof-mounted tile, membrane and glass, absorbs sunlight and convert it to energy. The energy can be used to power the entire building. While PV solar panels are not widely used, these commercial roofing systems offer great potential to conserve energy and control rising costs. PV solar panels cost $6.5 – 7.50 per sq. foot installed.
4. Green Roofing System
Green commercial roofing systems in Raleigh are quickly replacing conventional roofing systems that don't weather well, and often burden building owners with high roofing repair costs. Green roofs are flat roofs that are completely or partially covered with soil and vegetation and installed over a waterproof membrane.
The roof provides a good insulation, reducing the heat a building loses in the winter. In the summer, a roof can absorb sunlight and become a major source of unwanted heat. However, natural roofing systems prevent this from happening as it blocks the sunlight that is transferred to the interior. And because green systems are self-sustaining, they require less maintenance and repairs than traditional commercial roofing. Green roofing system costs $5.00 – 6.50 per sq. foot installed.
Commercial roofing systems are quickly becoming the best alternative to conventional systems. They are energy-efficient, need less maintenance and provide a wide range of practical benefits. Moreover, flat roofing systems offer an ideal space for green roofs or solar panels – provides good wind resistance and are easy to access. Lastly, be sure to hire a roofing company that can do the best job for you.